Faceplates
$24.95 – $45.95
Product Description
Curling Brush Faceplates
Available in 5 designs:
BalancePlus Oval
LiteSpeed 7″
LiteSpeed XL 9″
RS 7″
RS XL 9″

Advantage of EQ Faceplates
Recreational curlers benefit the most from EQ technology. Brushing produces heat. In the past, more heat was produced by using more abrasive fabrics. Abrasive fabrics wear off the pebble. This causes flatter ice and increases the difficulty in making quality shots. EQ technology will keep the heat produced close to the ice where it is needed, which provides many benefits over current brush heads. EQ brush heads feature less abrasive fabrics. This leads to less ice damage and the reduced friction requires less effort to sweep. Please review the EQ faceplate information video.
The chart below shows the advantages of using an EQ faceplate over other curling brush faceplates.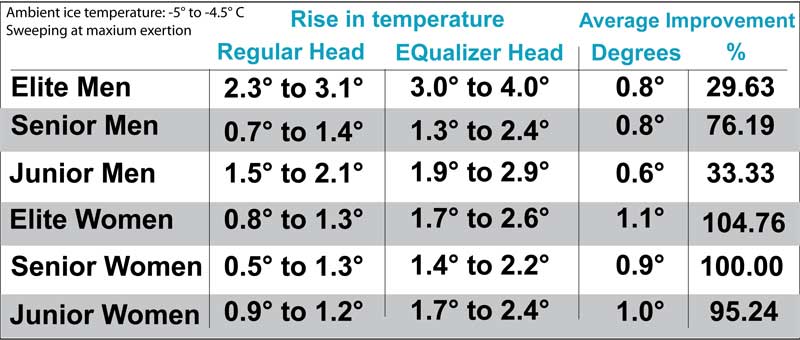 LiteSpeed RS Advantage
Get the most from your curling brush. The LiteSpeed RS 7″ and RS XL 9″ features a closed cell foam option. The LiteSpeed RS system allows for maximum customization by size and materials, making it the most effective brush on the market. The RS reduces the waste from used brush parts – when time for replacement, the sleeve is the only component to replace. Reuse the foam and baseplates to limit the amount going into landfill.
WCF Approved faceplates are a WCF Approved Design and are compliant for use in WCF events.
Products and/or colours may not be exactly as shown
IMPORTANT NOTICES REGARDING SWEEPING MORATORIUM ON BRUSH HEAD TECHNOLOGY:
Further information regarding sweeping and equipment rules from the World Curling Federation.
Further information regarding Curling Canada's Sweeping Moratorium.
Shipping & Returns
Shipping
All orders are processed in the order they are received and are available to ship within 2 business days once processed at BalancePlus.
Returns/Exchanges
Should your BalancePlus EQuipment not fit properly, you may exchange the unused/unworn item for the correct size. Shipping charges are the responsibility of the customer. Items that have been worn, laundered, or used may not be returned. Any item being returned must be returned in its original packaging, free of damage.
All special orders are final. For more information, please see our Shipping & Returns