GRIPPERS Anti-Sliders
$19.95
The sliding foot is the foot that is in front of you while sliding out of the hack. It is the opposite of a gripper foot.
Product Description
GRIPPERS Anti-Sliders
Get the best possible on-ice performance with BalancePlus Anti-Sliders GRIPPERS.
Specifically designed for the Right or Left Foot to ensure good engagement with your curling shoes. Made from a special rubber compound with aggressive texture to provide maximum traction on curling ice. BalancePlus anti-sliders grippers feature a built-in locking device for secure fit on all BalancePlus footwear.
To be used over a slider to protect from dirt and scratches both off and on the ice and when shoes are stored. Wrap around toe provides better fit on BalancePlus curling shoes. Available in Black or Pink.
Features:
Made for the left or right shoe
Superior grip
Available in black or pink
Black sizes available XS, SM, MD, LG, XL, XXL
Pink sizes available XS, LG, XL
Products and/or colours may not be exactly as shown
Note: A anti-slider gripper should be washed at least once a month to maximize performance and keep the playing surface clean. Please see our frequently asked questions page for more details.
BalancePlus recommends replacing your anti-slider gripper annually to ensure maximum grip while on the ice.
For further footwear maintenance tips please see our Maintenance & Tips page.
400 Series Sizing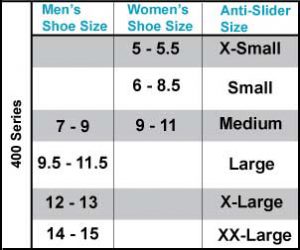 500 Series Sizing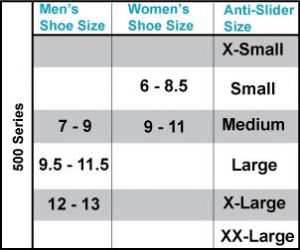 700 Series Sizing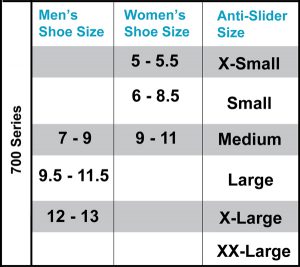 Delux Sizing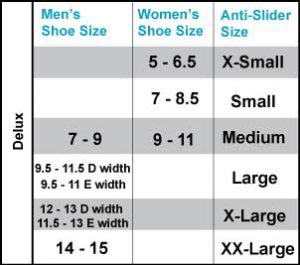 Safety
Curling is an indoor/outdoor winter sport played on a slippery surface. It involves inherent dangers and risks for you and others. Be conscious of your physical condition and always play with an awareness of your surroundings. The use of BalancePlus products requires skill and the exercise of caution. Failure to exercise caution in the use of these products could result in serious body injuries. Adults should properly supervise any under age children using BalancePlus products. Always inspect your equipment for any signs of wear before each use. BalancePlus sells personal protective/safety equipment for the sport of curling such as Helmets and Anti-Sliders.
Shipping & Returns
Shipping
All orders are processed in the order they are received and are available to ship within 2 business days once processed at BalancePlus.
Returns/Exchanges
Should your BalancePlus EQuipment not fit properly, you may exchange the unused/unworn item for the correct size. Shipping charges are the responsibility of the customer. Items that have been worn, laundered, or used may not be returned. Any item being returned must be returned in its original packaging, free of damage.
All special orders are final. For more information, please see our Shipping & Returns