Curling Delivery Analysis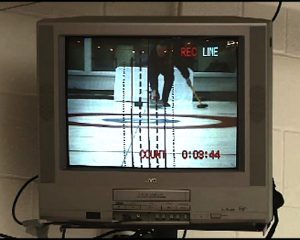 A device was created in 1996 by Lino Di Iorio that provides curlers with instant curling delivery analysis.  This device enables the video recording of a curler's slide from the opposite end of the sheet.  (Two additional views are also available).  A camera acts as a target and can be moved by the curler or coach from side to side via remote control.
A grid on the camera shows parallel lines to the line of delivery and the recorded video clearly shows if the proper line of delivery was achieved. Thus, providing instant on-ice feedback and revealing the impact of any delivery changes.
Now the curler can directly see the proper line of delivery and make adjustments to correct any mistakes. Curlers can make their own recordings for analysis.
Deceleration Measurement Using Radar Technology
In 1999, BalancePlus built a device that will accurately measure the deceleration caused by equipment during the slide. This information along with the placement of the BalancePlus hole, thickness of BalancePlus Slider and Toe Coating will aid in achieving more consistency amongst team member's slides. Thus, matching the speed of the slide and point of release of each team member. Contact BalancePlus for more information on the Line of Delivery Machine, Rock Matching Equipment, or Deceleration Technology.
BalancePlus Tests Slider Deceleration
BalancePlus conducted tests on curling shoes and sliders using Doppler radar equipment that records the speed of the curler during the delivery.
Please click HERE for more details.