Curling Delivery Analysis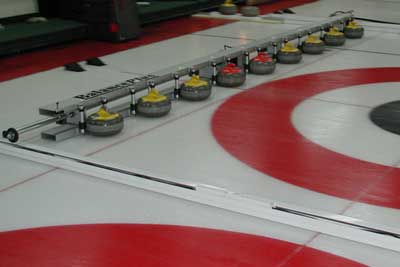 A device was created in 1996 by Lino Di Iorio that provides curlers with instant curling delivery analysis.  This device enables the video recording of a curler's slide from the opposite end of the sheet.  (Two additional views are also available).  A camera acts as a target and can be moved by the curler or coach from side to side via remote control.
A grid on the camera shows parallel lines to the line of delivery and the recorded video clearly shows if the proper line of delivery was achieved. Thus, providing instant on-ice feedback and revealing the impact of any delivery changes.
Now the curler can directly see the proper line of delivery and make adjustments to correct any mistakes. Curlers can make their own recordings for analysis.
Perfect for junior curling programs, adult clinics, and high-performance team clinics.
BalancePlus Training Centre
Overview
Curling's first International Technical Training and Research and Development Centre was established in 2001. The centre, located in Toronto, offers individual and team training sessions. It houses the latest teaching equipment and technology developed by Lino Di Iorio, founder of BalancePlus. The Toronto facility brings to Canada what BalancePlus has been providing in Europe since 1998.
The other important aspect of the game, strategy, compliments the technical side.
On Ice Training Rate Chart
| Description | Session | Rate |
| --- | --- | --- |
| 4 hours, maximum 6 people (4 players, 1 alternate, 1 coach) | First Visit | $200 |
| Minimum 1 hour | Follow-up Sessions | $50/hour |
| 8 hours | Full Day | $300 |
| Description | Rate | |
| --- | --- | --- |
| 2 hour minimum, per team of 6 | $50/hour | |
| Additional people to maximum 20 people | $10/person/hour* | |
*Maximum $100/hour for all strategy sessions
Use our Contact us form to receive more information regarding all training and development options.